To place an advert email Jacqui : jtmccarthy@btinternet.com, Free to members, non members  are charged £5.00 (cheque payable to Cheltenham Owners Club and sent to hon.secretary: Mr John Marsland, 7 Cawthorne Lane, Wrelton, Pickering, North Yorkshire, YO18 8PQ
Please let me know when the van has been sold and it will be taken off the site.
The club can now supply copies of Cheltenham Caravan Co brochures
Years available; 1937,  38,  39,  46,  50,  51,  52,  53,  54,  57,  61,  62,  63,  64,  65,  67,  69,  70,  71,  72,  73,  74,  75,  8?(fernden)
Non-members £10 each inc p&p, members £5 each inc p&p.
To order please contact  John Marsland  email:  cheltenhamownersclub@outlook.com
Amongst the club spares we now have lots of keys in the 3 to 39 range of numbers. The only ones missing are 9  10  22  32  35  36  37  38  . We have all the rest.  £2 each inc p and p to members. cheltenhamownersclub@outlook.com
---
I am about to cut up a very good chassis from a 1965 single back window Waterbuck. If anyone needs any chassis sections please contact  John Marsland . 01751 472007   or  cheltenhamownersclub@outlook.com
---
70th Anniversary Resin Plaques.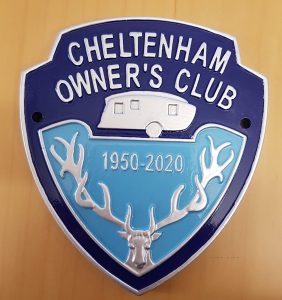 John Marsland commissioned 60th Anniversary plaques and is repeating the order for the 70th.They are similar in design but are in the colours of Sapphire Blue and Platinum.
The plaques are now available at a cost of £37 inc p&p, please contact John Marsland to purchase or for more details.
This is a picture of the proof sample  attached.
Please note this is not a club initiative but is privately commissioned at cost offer.
---
For Sale, 1966 Cheltenham Springbok.
I'm reluctantly selling my beloved Cheltenham. It's time for the next person to enjoy her. I no longer have room to store this and it's just not getting used.
She's watertight, and should be roadworthy. I last used her about 2 years ago.
She is not in top condition, and needs some TLC. The bodywork could do with a rub and respray. The top roof light has discoloured, which I think is normal. The window rubbers might be worth replacing. Some of the interior needs a tweak, but it's basically a functioning van.
There's a sink, gas cooker and oven, 2 gas bottles. We didn't bother with electrics on the whole, using led and candles.
Offers considered Over £3,000. For sale elsewhere.
Contact: Teucer Wilson  email:
info@teucerwilson.co.uk
   tel: 07876 243230
---
For Sale, Cheltenham Springbok. This is a project we have started but not yet finished, it has been prepared for a respray and due to personal circumstances has been left with its winter cover on. It has a very good chassis we towed it from Scotland to Dorset a few years ago and intend to perform a very deep refurbishment. It would need to be collected on a trailer and needs some extensive work. Photos available on request. We paid £3,500 but will accept £1,150.
A great and rewarding project and I would like to see it back to its former glory.  Contact. Dawn Hopkins 07855760806
For Sale, A complete set of very expensive brand new never used cushions for a Springbok,  made by the upholsterers of Sunseeker Boats.  Costing £2,185.  willing to sell for £1,100.
Also top quality thermal lined curtains for Springbok, stripe material to tone in with cushions above, brand new and still in packing from upholsterers, includes matching tie backs. Again half purchase price of £485.
I also have a brand new quality set of thermal lined curtains for a Fawn. Contact dawn 07855760806.
---
Wanted,  5 stud spare wheel for Cheltenham Fawn caravan. Please email us at helenhoward45@talktalk.net 
---
For Sale, hitch covers with club logo printed on both sides, £12.50 + p&p. can be collected at rally free of charge.  Please contact Howard Evans
---
FREE TO REMOVE Fawn five stud wheels and spare wheel. Situated at Romsey Hampshire. Contact Simon Crockford 07704 190738  or crockford38rl@virginmedia.com
---
For Sale, a much loved 1963 Sable in very original condition. One family owner from new. The upholstery has been updated in recent years. It does need a new Morlite roof. It has all original oak woodwork and fittings. Stored under cover. Structurally sound (running gear & floor).  Available to view just outside Penrith, Cumbria. Photos can be provided on request. Open to offers over £2,250. Please contact Mr Kit Scott-Harden, 017684 83616, or 07715 178 739.
Email oscott-harden@norseland.co.uk
For Sale - Book - Cheltenham Caravans An Illustrated History by Jacqui McCarthy,  £10 inc free P&P, email Jacqui for more details jtmccarthy@btinternet.com
For Sale -  White Nylon peg type cupboard catches.
These have become a bit scarce, so I have managed to source a bulk supply and can therefore supply them at £1 each to members. I will make them available at events or you could get them by post, 4 for £5.
New Top Quality Shock Absorbers specially manufactured to suit all models of Cheltenham Caravans (using original springs), £195 per pair.
New Chassis Pivot Bushes in molybdenum disulphide loaded nylon (for reduced wear), £16 per side.
Also many other second hand spares for running gear, lights, windows, furniture, exterior fittings, rooflights, 5 stud and post72 four stud spare wheels.
Contact: Alasdair Robb, tel: 01324 624574  or email:  alasdairrobb@talktalk.net
News from John Marsland
I have had a hitch damper made to pattern. It is gas filled with 28 adjustment stages so should be suitable for different models.The makers have established a part number for us and can produce the item in less than a week from receiving payment. The price is £99.99 plus post and packing but we should be able to negotiate a batch discount dependent on demand. For any further information please contact email John Marsland: cheltenhamownersclub@outlook.com
Club Items
Email John Marsland:  cheltenhamownersclub@outlook.com
3-Pennant Bracket and Masts - £15 plus p&p (New design - fits under COC badge)
Pennant £5 plus P&P
Car Sticker 70p plus postage
Tie (burgundy) £4.50 plus p&p