Adverts will appear for 2 months only. Please let me know when the van has been sold and it will be taken off the site.  If your van remains unsold please resubmit your advert after 2 months. 

Members can place an advert free of charge, (email: adverts), non members  are charged £5.00 (cheque payable to Cheltenham Owners Club and sent to hon.secretary:
Mr John Marsland, 7 Cawthorne Lane, Wrelton, Pickering, North Yorkshire, YO18 8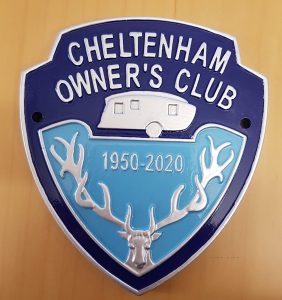 70th Anniversary Resin Plaques.
John Marsland commissioned 60th Anniversary plaques and is repeating the order for the 70th.They are similar in design but are in the colours of Sapphire Blue and Platinum.
It is hoped to have a run of about 30 made and if anyone would like to express their interest please contact John direct.
The cost will be approx. £30 inc p&p.
This is a picture of the proof sample  attached.
Please note this is not a club initiative but is privately commissioned at cost offer.
For Sale

- Book - Cheltenham Caravans An Illustrated History by Jacqui McCarthy,  £10 inc free P&P, email Jacqui for more details jtmccarthy@btinternet.com
For Sale - 

White Nylon peg type cupboard catches

.
These have become a bit scarce, so I have managed to source a bulk supply and can therefore supply them at £1 each to members. I will make them available at events or you could get them by post, 4 for £5.
New Top Quality

 

Shock Absorbers specially manufactured to suit all models of Cheltenham Caravans (using original springs), £195 per pair.
New Chassis Pivot Bushes

 

in molybdenum disulphide loaded nylon (for reduced wear), £16 per side.
Also many other second hand spares

 

for running gear, lights, windows, furniture, exterior fittings, rooflights, 5 stud and post72 four stud spare wheels.
Contact: Alasdair Robb, tel: 01324 624574  or email:  alasdairrobb@talktalk.net
News from John Marsland


I have had a hitch damper made to pattern. It is gas filled with 28 adjustment stages so should be suitable for different models.The makers have established a part number for us and can produce the item in less than a week from receiving payment. The price is £99.99 plus post and packing but we should be able to negotiate a batch discount dependent on demand. For any further information please contact email John Marsland: cheltenhamownersclub@outlook.com      
Club Items
Email John Marsland:  cheltenhamownersclub@outlook.com


3-Pennant Bracket and Masts

- £15 plus p&p (New design - fits under COC badge)
Pennant

£5 plus P&P


Car Sticker

70p plus postage


Tie (burgundy)

£4.50 plus p&p